When Windows is acting up, or you just need a clean up a system, an automated Windows repair tool saves you time and money.  The problem is deciding which tool or tools to use. Fortunately, I spent a few months with several tools and can make some recommendations. These are tools for operating system/program problems.  They're not for hardware.  Check out our comprehensive hardware diagnostic article if you're looking for those type of programs
Too often computer repair technicians forget about these tools. They won't solve all problems, but they are an excellent place to start. We might complain about Microsoft's reliability, but they make the software, so they probably have a good idea of the common problems and how to fix it.
These tools tend to be less invasive and don't often create more problems, but it is Windows after all. Clients will trust these tools easily because Microsoft makes them.
Cost:  Free
Licensing:  None needed
Pros:  Made by Microsoft
Cons:  Made by Microsoft
Recommendation:  Start here if there is a tool to fix it
Malwarebytes Techbench Portable Toolkit (MBTS)
You're probably running Malwarebytes to clean client systems.  If you're using it professionally, you're supposed to buy the professional version. Not many techs do that. They came up with a comprehensive partner program that includes not only using Malwarebytes for your business but contains a portable toolkit (MBTS) only available to registered partners.
This program has been available to the partners for a little over a year, but I was an early tester of the product.  The partner program gives you 5 NFR keys that are good for as long as you are a member.  It also includes 25 keys you can resell.  At the retail of $40 a copy, that means you get $1000 value out of your membership. Check with Malwarebytes for any special pricing on membership.
Inform
The toolkit starts off doing a brief diagnostic of a system called Inform. It loads almost instantly and gives you a quick overview of any potential problems.  For example, in this system, it shows issues in the Device Manager.  If this were a laptop, it would give you battery health.
On the left navigation bar, MBTS gives you a more detailed analysis in each of those categories.  Applications lets you see detailed problems as well as quick access to Windows functions.  Sadly MBTS doesn't report on product keys or versions of programs.  The System tab will give you the Windows version and key.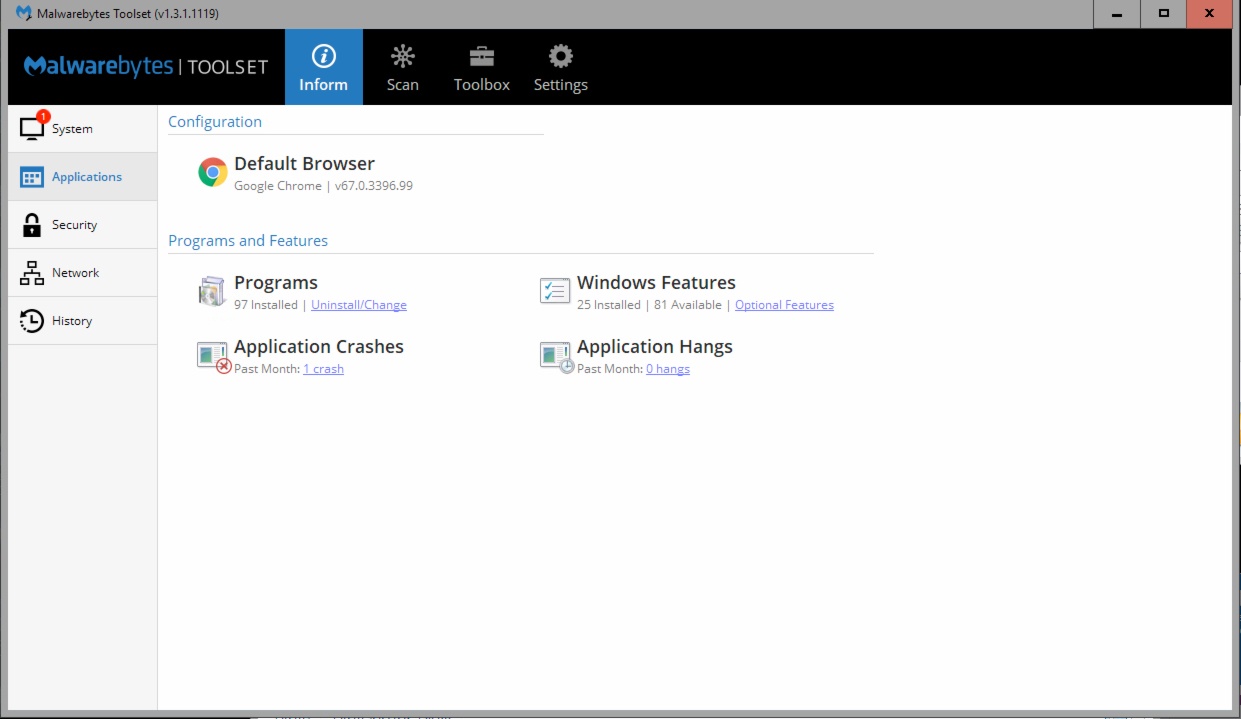 Under Security, MBTS informs you what protection is installed and the status of other security risks.  Ironically it doesn't mention Windows Updates here, but that's in the opening dashboard.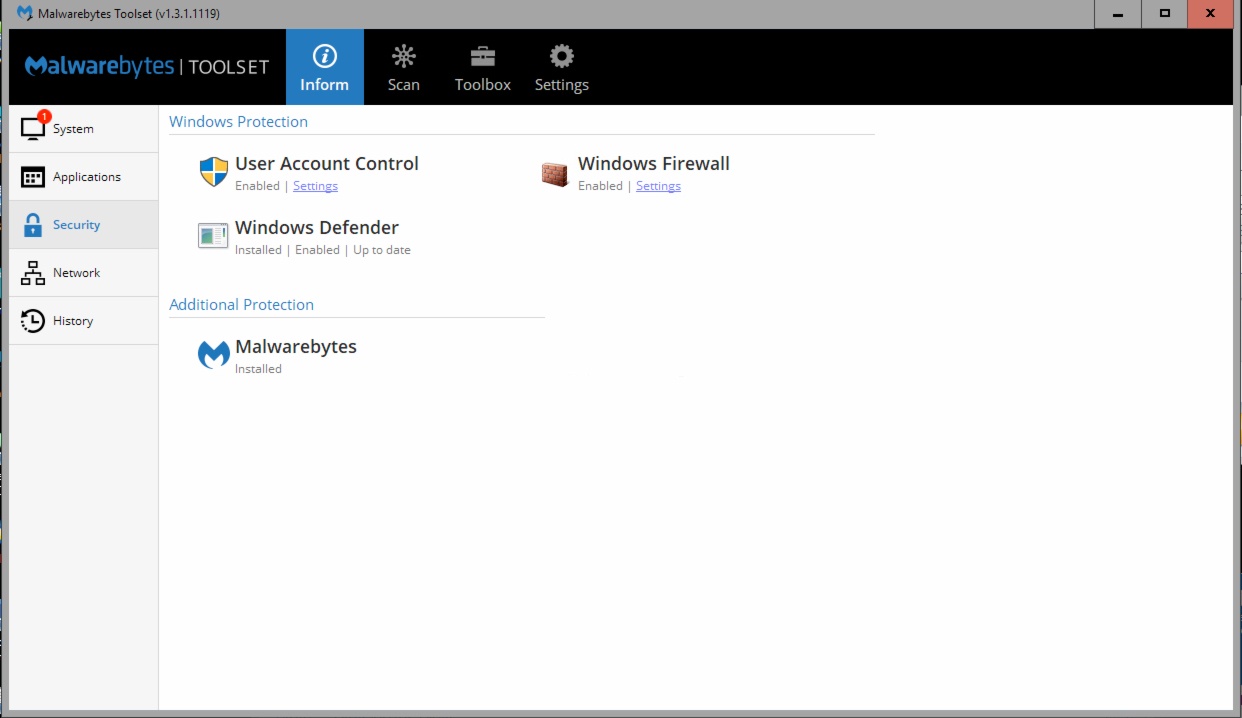 The Network inform gives you a ton of stuff that's perfect for diagnosing network problems.  Not only does it tell you  the IP addresses and network settings, but it includes all network shares and even a local device scanner with ping functions.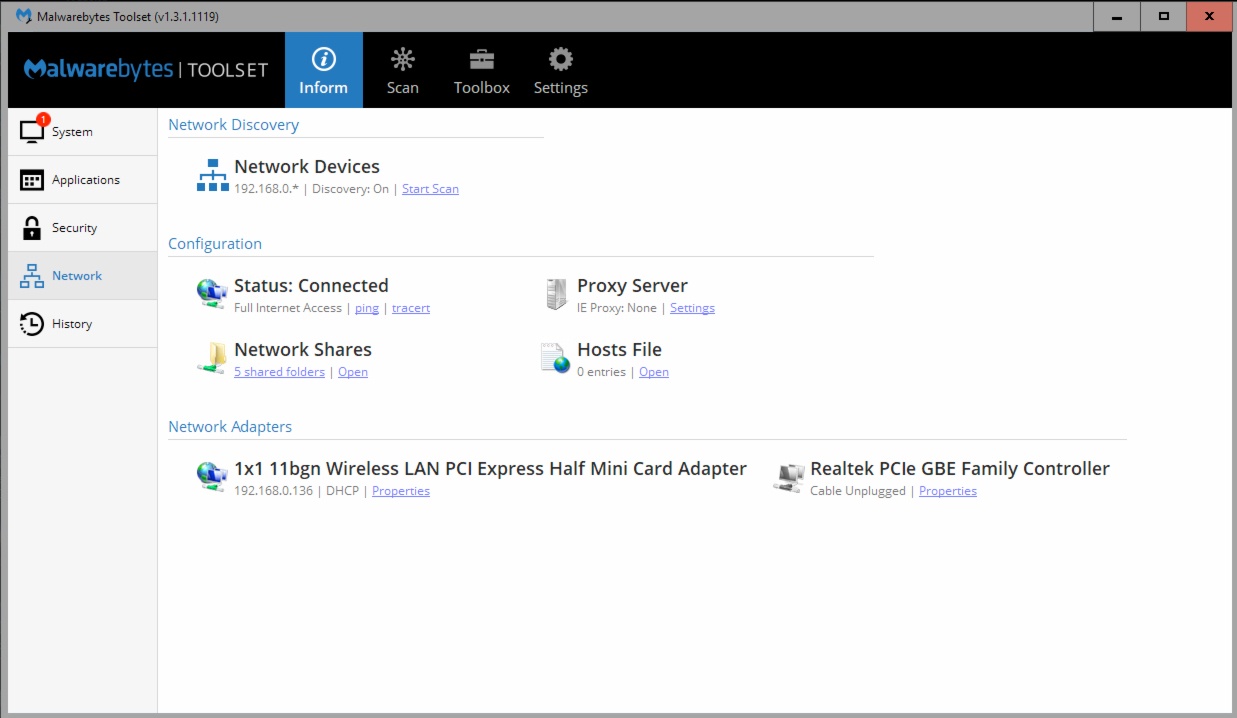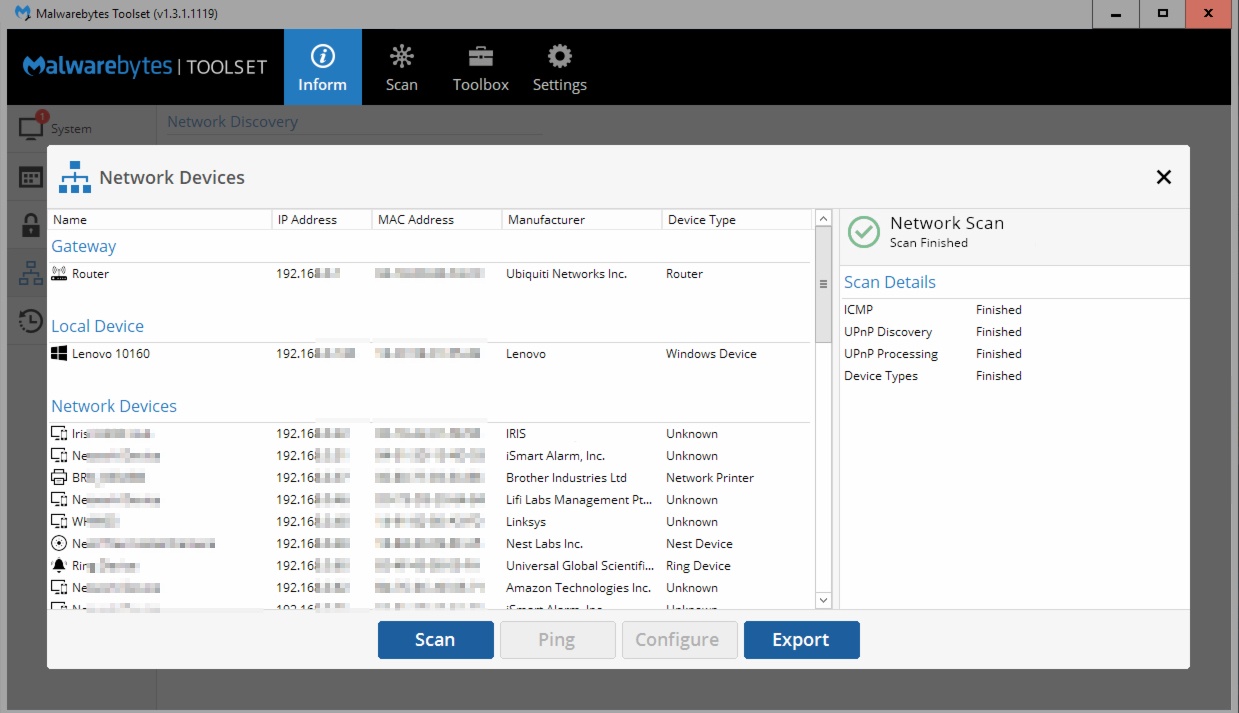 Finally, under History, you get an overview of events that happened in the system relevant to troubleshooting.  In this example, you don't need to go to Event Viewer.  History gives you direct access to the problems reported.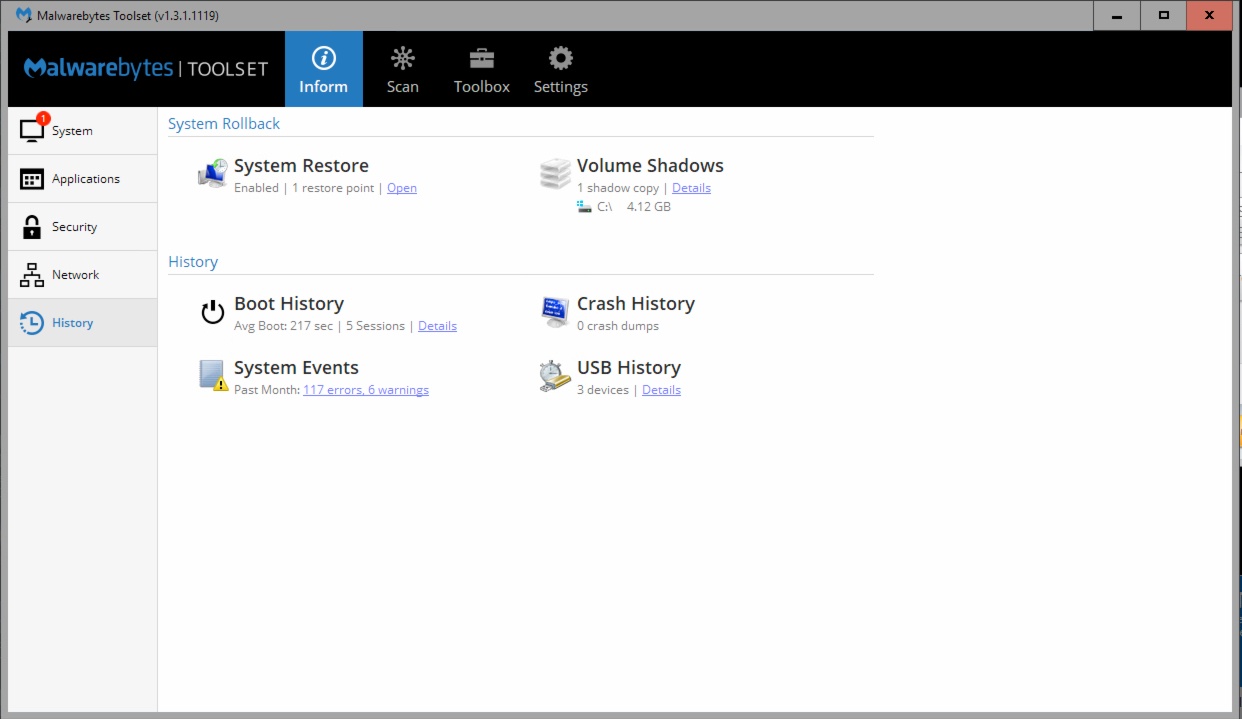 My techs and I love how we can use this one tool to get to all the critical information instantly.
Scan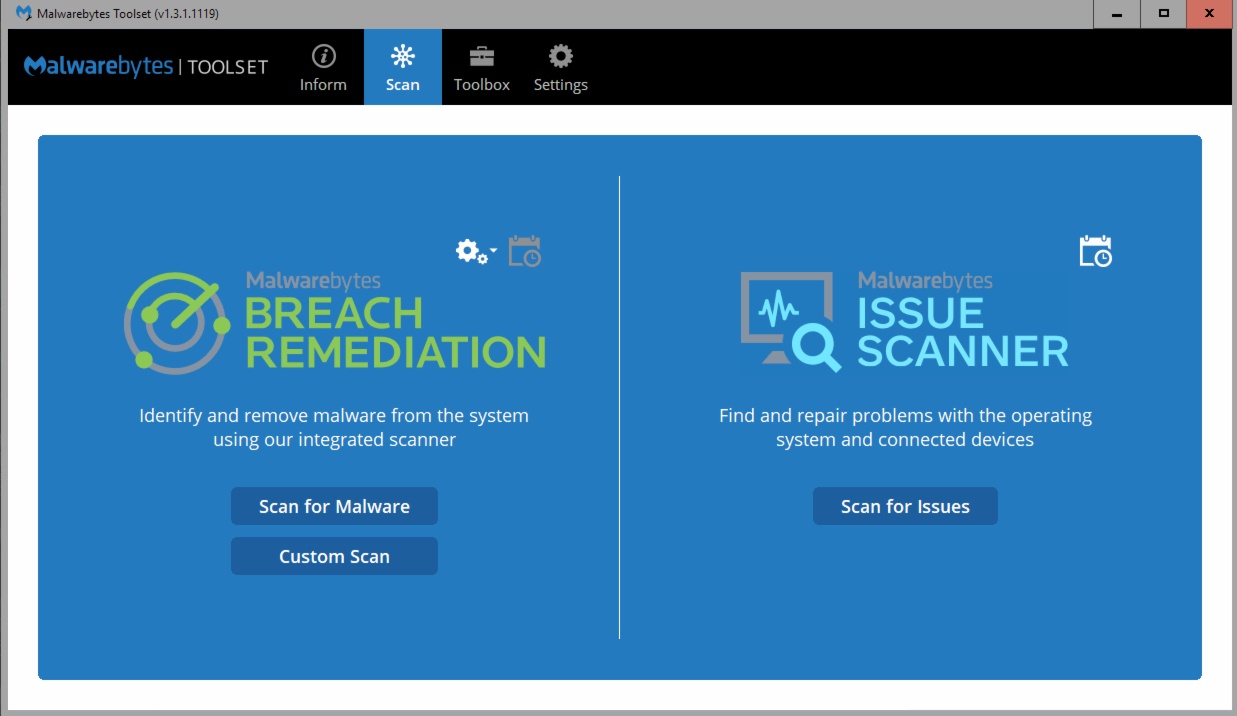 Although Inform gives you an instant overview, it doesn't go into a deep dive of problems.  It just presents stuff that Windows is reporting, just in a more direct way.
When you Scan for Issues, that's where you get some diagnostics.  It won't check for malware here, just issues that it sees on a system.  The test only takes about a minute to run.  It doesn't do any repairs at this point, it only informs you of problems.  We always start here because it quickly tells you if a hard drive is going bad.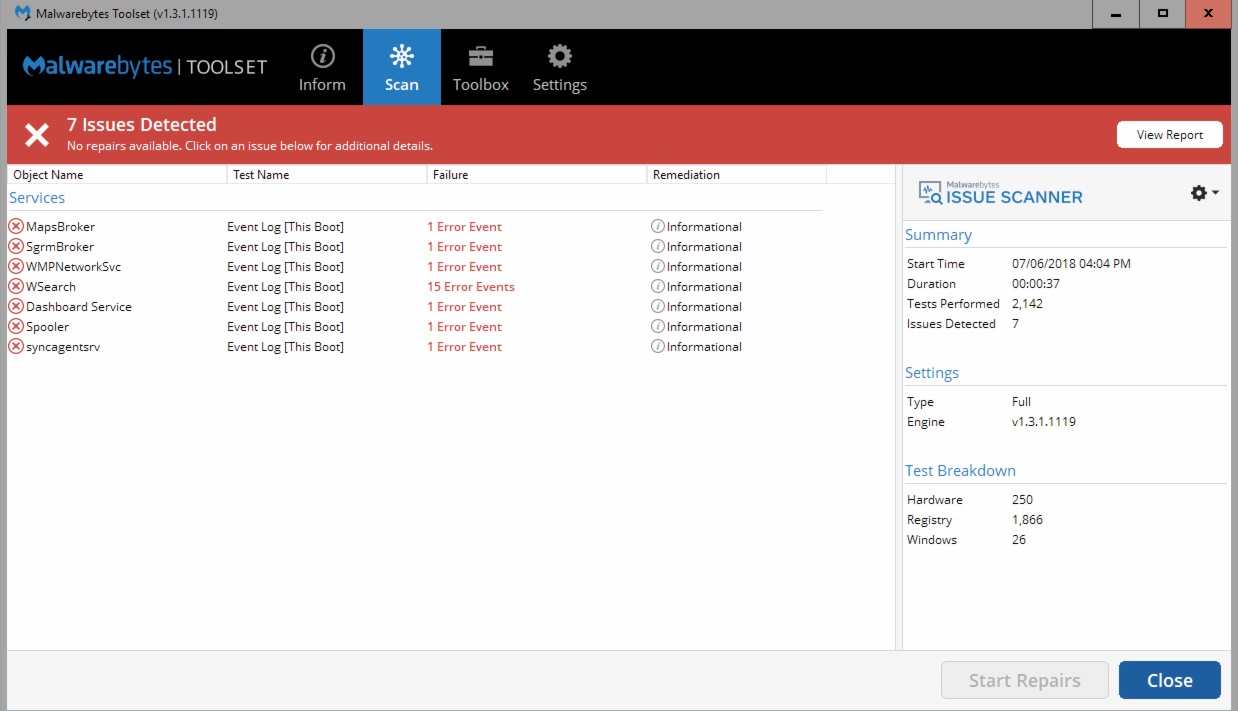 Some of the issues it reports are "informational," and they are just letting you know.  If MBTS can fix a problem, it offers a fix.  These aren't optimizations or hacks, but non-invasive fixes. It errors on the side of safety and tells you exactly what it is fixing and why.
While it can't print or email a report from here, it does let you export it.  For me, that's a fatal flaw.  The only way I can integrate it into our CRM, RepairShopr, is to copy it to a flash drive and export it later.  That's a few extra steps we never have time for.
Under Scan, that's where you get the traditional Malwarebytes scan, but in a portable format.  They designed it for techs, so if you click on the gear, you get some extra tweaks. I like the automatic default to kill other processes to make it run faster.  Just like the issue scanner, you can't easily print or email the report.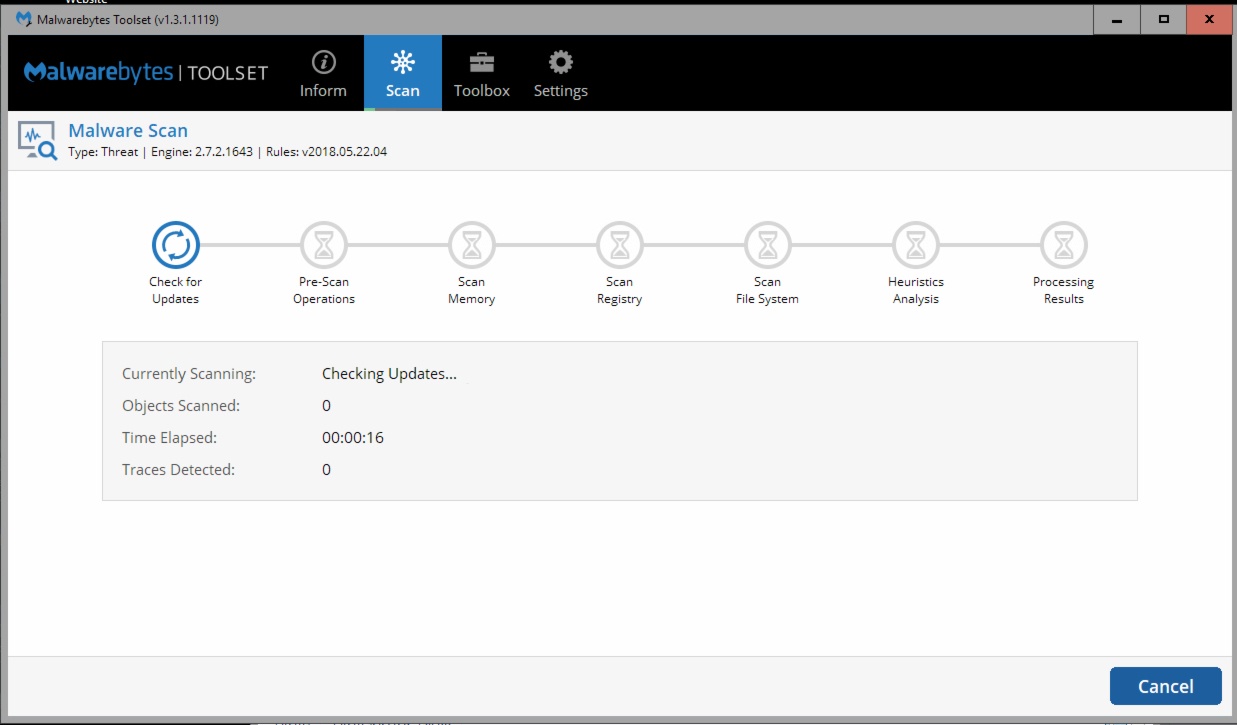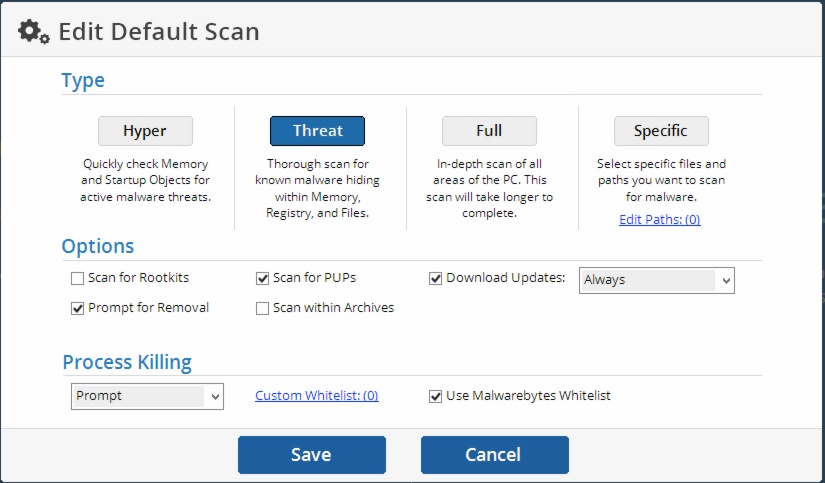 Toolbox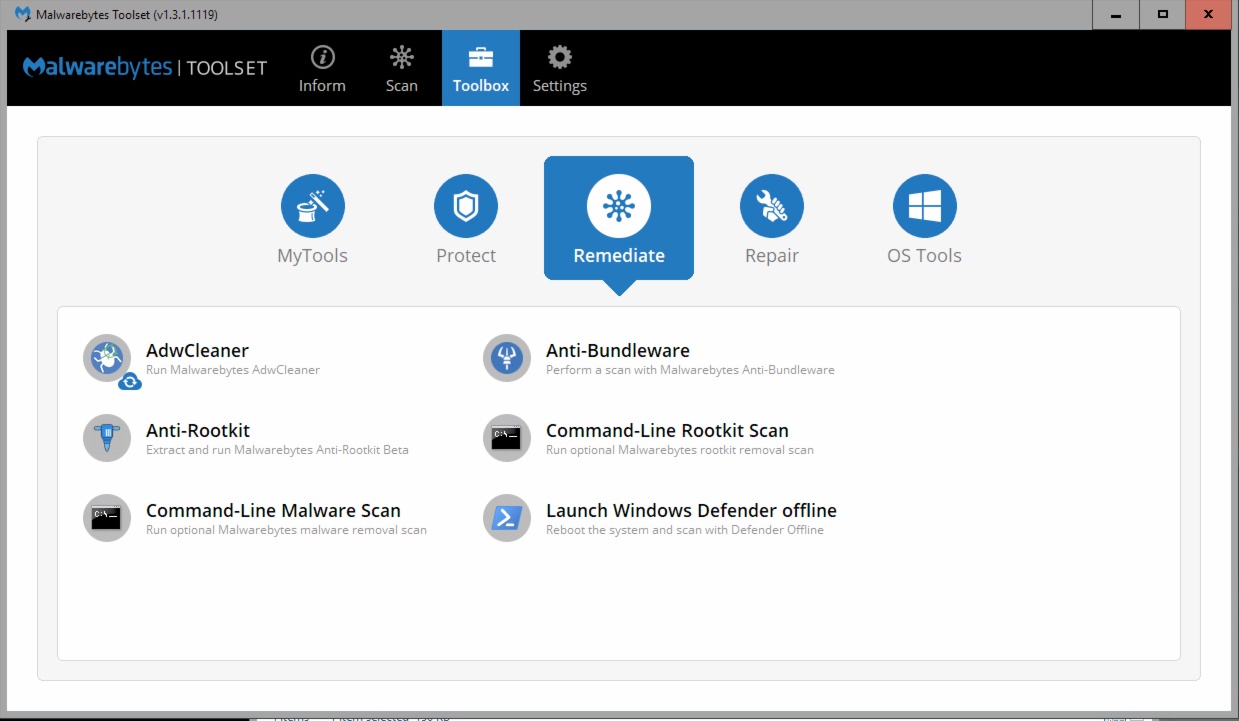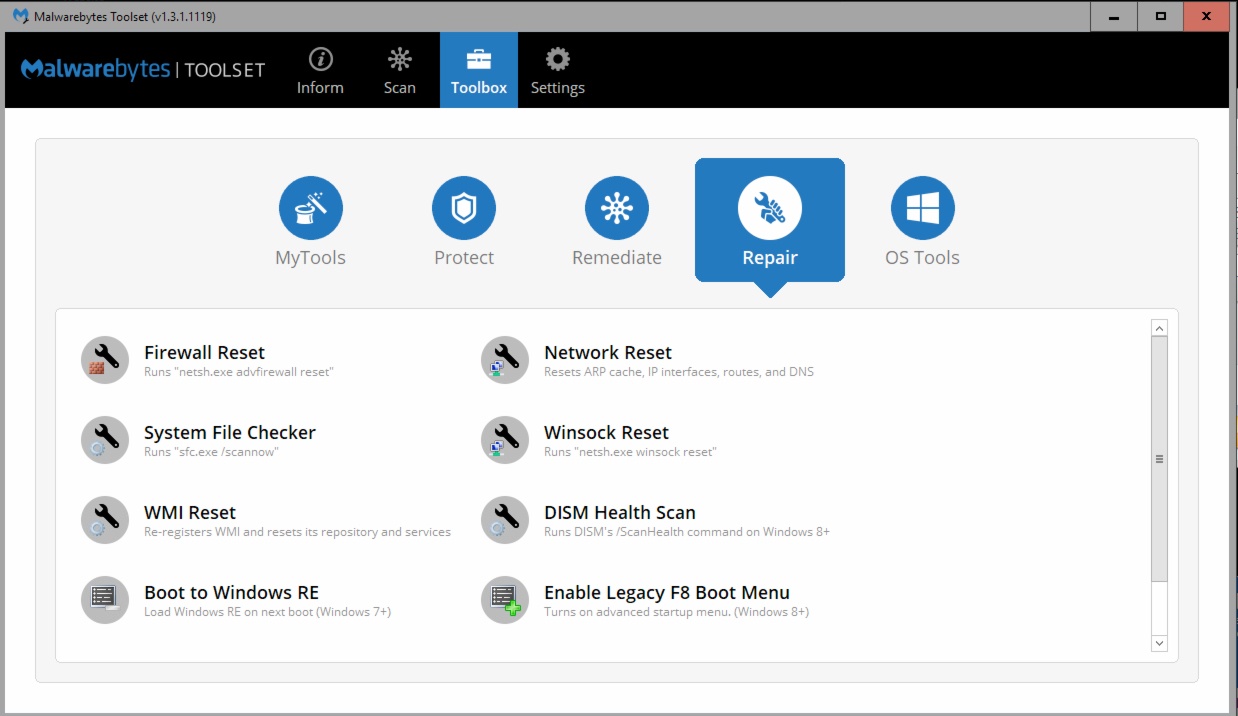 Here is where you get access to other Malwarebytes owned products like AdwCleaner.  They also include their Anti-Bundleware (their de-crapifier) as well accessing some of Microsoft's repair tools.  The Repair section is the one I always go to enable the F8 boot in newer systems.  The My Tools section lets you add other programs.  Like most of the other tools I reviewed, this tool tries to be your launchpad for other software.
Review
As an early tester, I was able to give some input into how the tool works.  It's almost like it was designed for me because in many ways it was.  I also have a long-standing complaint about the inability to email the reports out of the system.  My only other complaint is the lack of branding or white label.  I like to use tools that have my company's name on them.  Clients' tend to like that and are less likely to take a do-it-yourself approach if they think they can get the tool themselves.  To be fair though, MBTS isn't available to the general public.  Even at $349 a year without the free licenses, it's a tremendous value.  If you run Malwarebytes on client systems, this keeps you in compliance with licensing.
We run Inform or Scan on every computer regardless of the problem.  It's less than 2 minutes, and it prevents us from spending hours on a system only to find the hard drive is bad.  I'll grumble about the reporting and hope eventually they'll add it.
Cost:  $349 a year, includes 25 resellable licenses of Malwarebytes Premium + 5 NFRS
Pros:  Fast, easy-to-use, reliable, brand I know and trust
Cons: Potentially expensive after the first year, can't easily email or print reports, lack of product key or application version reporting
Recommendation: Get this tool if you use or resell Malwarebytes.  Even if you don't, the quick scanners prevent wasted time on suspect systems.
TechSuite
Servably, Inc is the parent company of TechSuite as well as RepairShopr, Kabuto and Syncro.  The product has gone through a few interactions and was formerly known as TechWARU along with a bootable companion app TechUSB.  When RepairTech solutions redesigned TechSuite, they used tools they developed or licensed to put under the hood.  If you look in the tools section, you'll see familiar stuff like Bleachbit or Nirsoft's product line.  That stuff is all behind the scenes though.
Procedures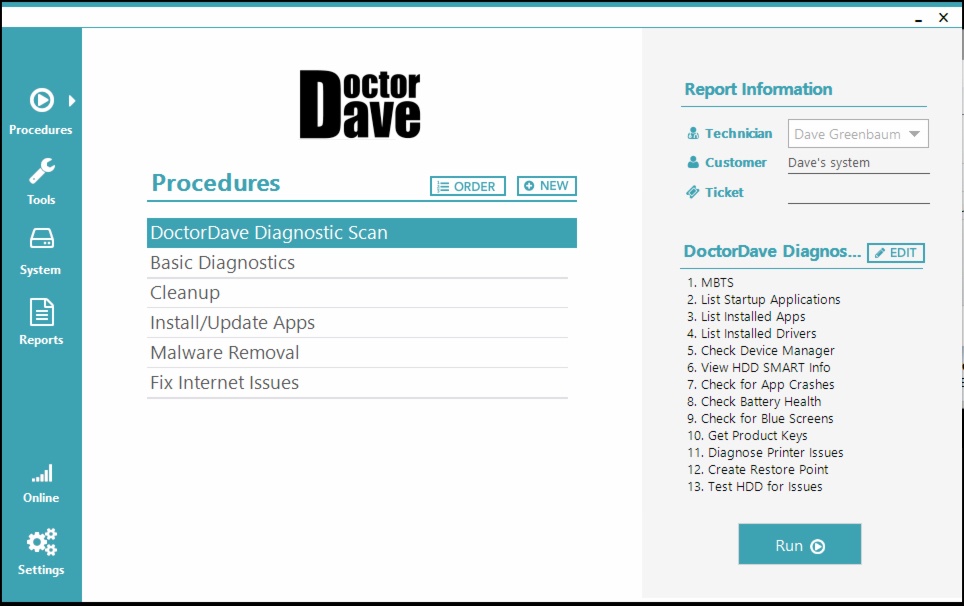 When you open the program, if you opt for the $49 a month plan, you get to put your logo at startup.  Clients won't see RepairTech's branding unless they look deep in the software settings.  It gives you the option of password protecting the program.  That's handy in case you leave it at a client.  The procedures screen has a series of built-in scripts to run the tools inside TechSuite. This area is fully customizable.  I took the "Basic Diagnostics" and modified a few things including adding MBTS. As I said, we start every system with that. If you're on the $49 plan, your reports integrate with RepairShopr.
When you put in a Customer and Ticket number, the report pushes to that ticket on RepairShopr.  That sold me on the product.  Everything we do to a client system in Techsuite writes to the client file.  If you don't use that, it produces a standard HTML report as well.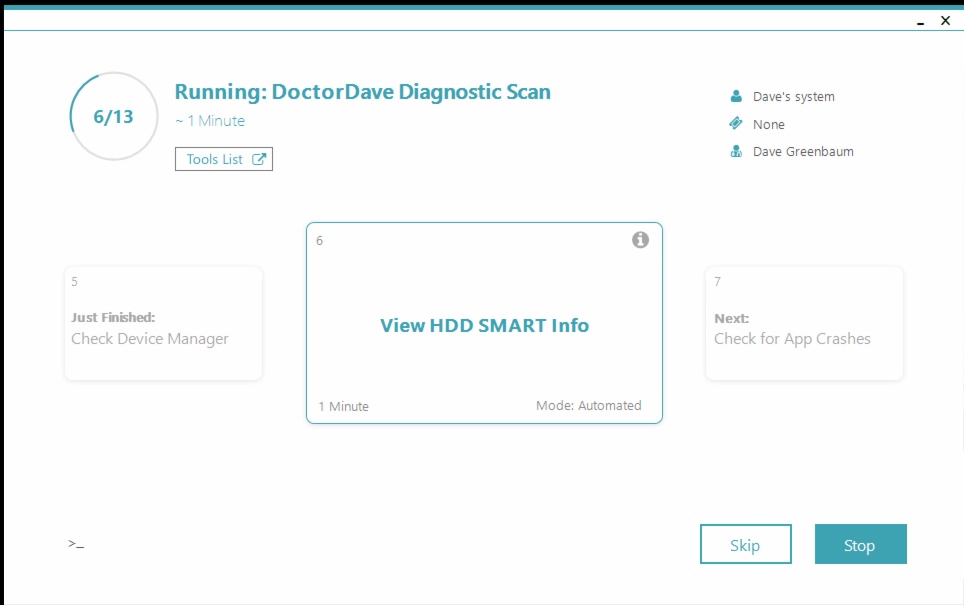 Depending on how many tests you're running it could take a few minutes, especially on an older system.  Repairtech did a fantastic job on the interface.  I love the fact it not only tells you what test it's running but also what test it just finished and what test it plans to run.  That way if you stop it at some point, you know exactly where you were to continue.  If you click on the Tools List, it even tells you all the tests it plans to run.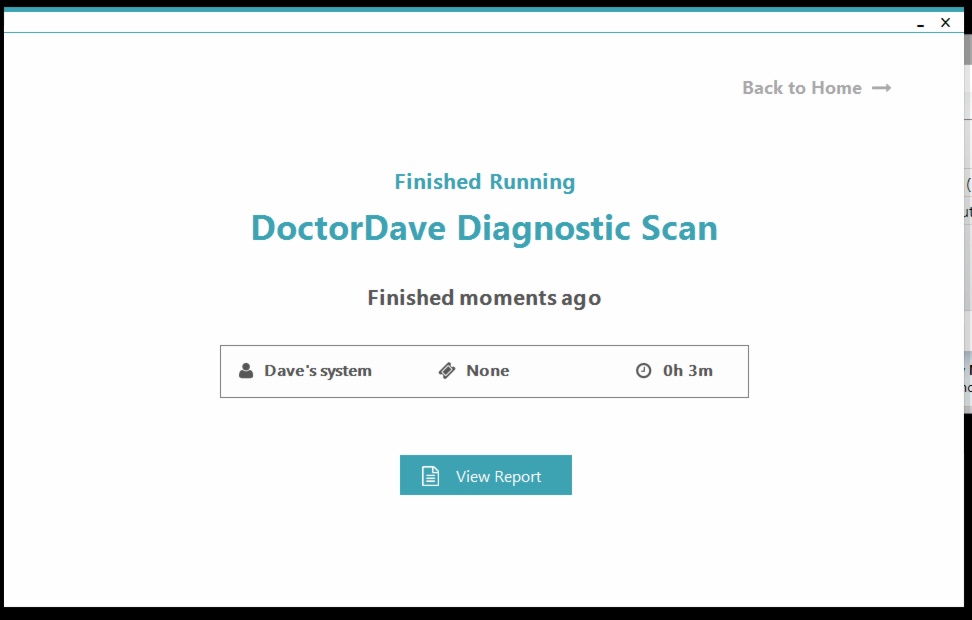 After it finishes a procedure, TechSuite gives you a detailed report.  You can keep that for yourself, put it in RepairShopr, as well as print it for the client.  They have integrations with other tools like CommitCRM and PC Repair Tracker.  With the ownership of RepairShopr though, it's the most integrated and the one I tested.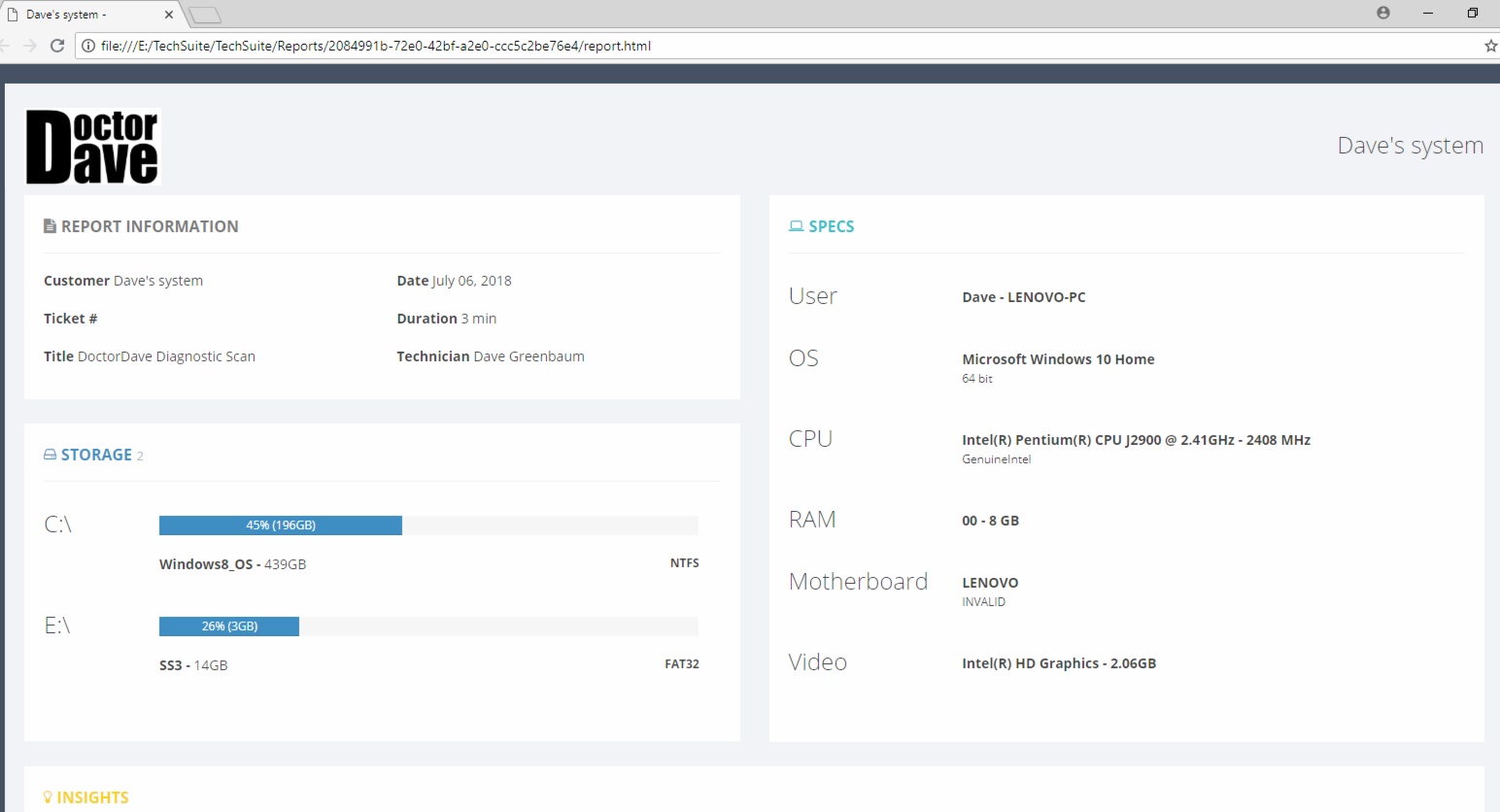 Here is the killer:  all this stuff is accessible via the cloud.  All your reports are available from the TechSuite portal.  If a procedure is running, you can see what it's doing from the cloud.  If you have multiple techs, you can supervise their work remotely.  I love the cloud feature.  While I'm on the phone with a client, I can see the entire repair and problem history.  I could do that with RepairShopr, but I'd have to click on each ticket.
Tools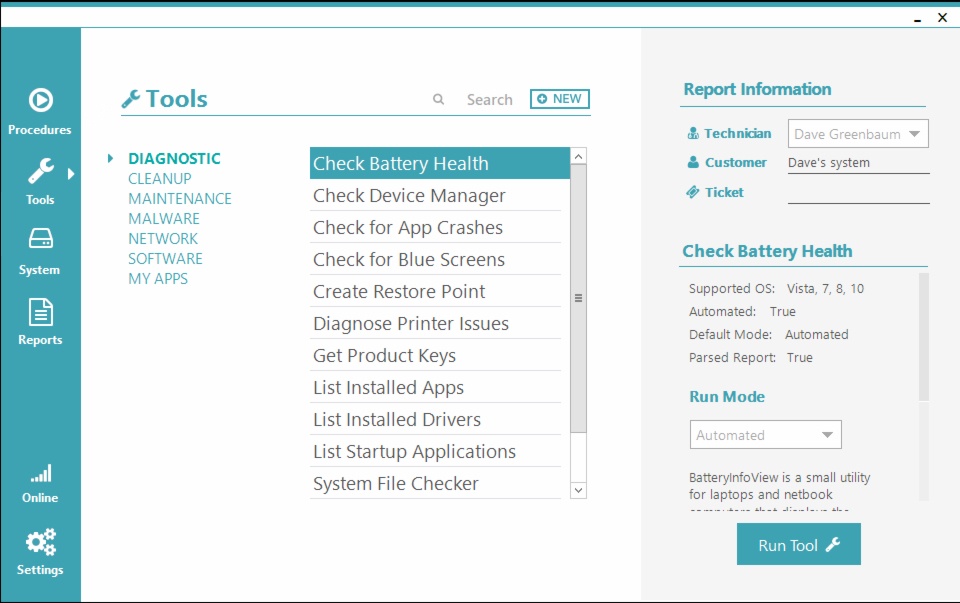 While procedures are sets of tools, the tools menu is when you get to the individual programs to perform detailed tasks.  That section is broken down into diagnostic, cleanup, maintenance, malware, network, and software.  Since this is cloud-based programs, RepairTech could update these.  Right now it's a smattering of stuff.  I don't see any real pattern to what Repairtech includes and doesn't include.  Much of it is what you see in other programs like obtaining keys and passwords as well as flushing caches.  The malware section downloads and runs third-party repair tools like TDSSKiller and Emsisoft Anti-Malware.  For software, they include the most popular stuff like Adobe Flash Player and Chrome.  The My Apps section is my favorite.  Anything you put in this section gets synced to all your licenses.  If you have multiple techs, they all get access to that program.  I've used it to quickly re-create my TechSuite when I forgot it at the office or in a client machine.  If you're an Instant Housecall user, TechSuite can be run from within a remote session and without having to transfer the software to the host computer.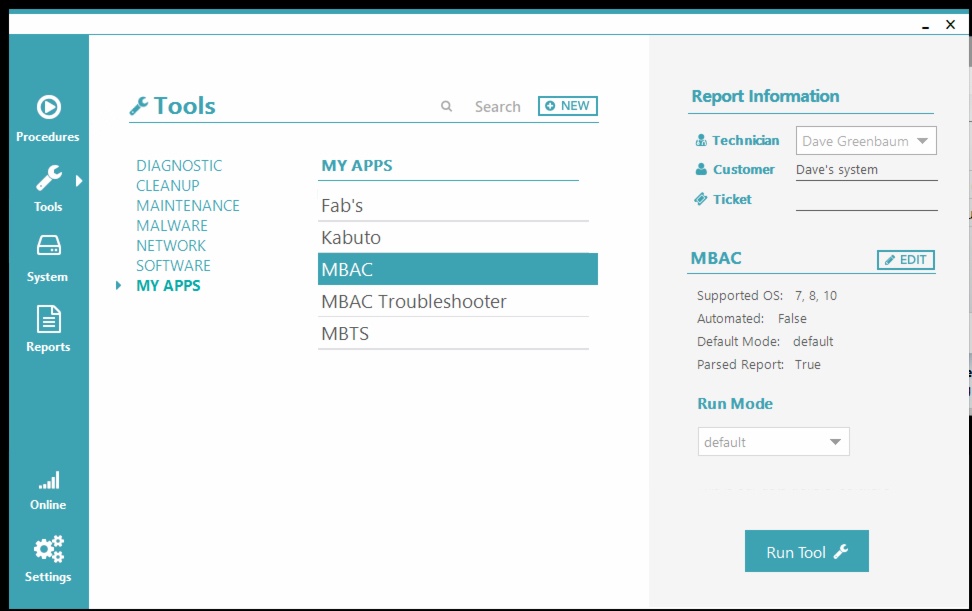 As you can see, I run Fab's AutoBackup from this tool as well as MBTS as I mentioned as part of our diagnostic scan.  Anytime TechSuite runs a program, it creates a report they sync to the cloud.  That lets me know right away if I remembered to install specific programs or run tools.
The "repairs" it offers are hyperspecific and don't provide much context into improving Windows' reliability or functionality. You won't find things in here Microsoft includes as Easy Fixes nor will you find all the stuff that MBTS includes.  These tools feel very "legacy" and don't always account for modern problems.  For example, MBTS lets me fix Windows DISM issues.  TechSuite doesn't but includes defrag, which isn't necessary on most systems.  This limitation isn't too much of a complaint because you can always add tools.
Review
Although MBTS is the first tool I run, I run it as part of the TechSuite Diagnostic.  MBTS might give me a general overview, but TechSuite gives me detailed reporting and diagnostics.  The reporting alone sells me on the product. Those reports instantly are available anywhere including the cloud and RepairTech.  The reports it creates have custom branding.   The tools include everything I need at a typical client.  If I'm missing a tool,  I can add it.  You can't fix things if you aren't sure what's broken and TechSuite excels at that.
Cost:  $25 a month for 1 user license, $49 for 3 users plus integration with CRM and branding
Pros:  Outstanding reporting and configuration options, detailed branding
Cons:  Repair functions are limited to the basics, lack some modern fixes
Recommendation:  If you like to keep track of what's going on in a system, get this tool. If you want fully automated repairs, you'll need to tweak the software to include your own stuff.
UVK- Ultra Virus Killer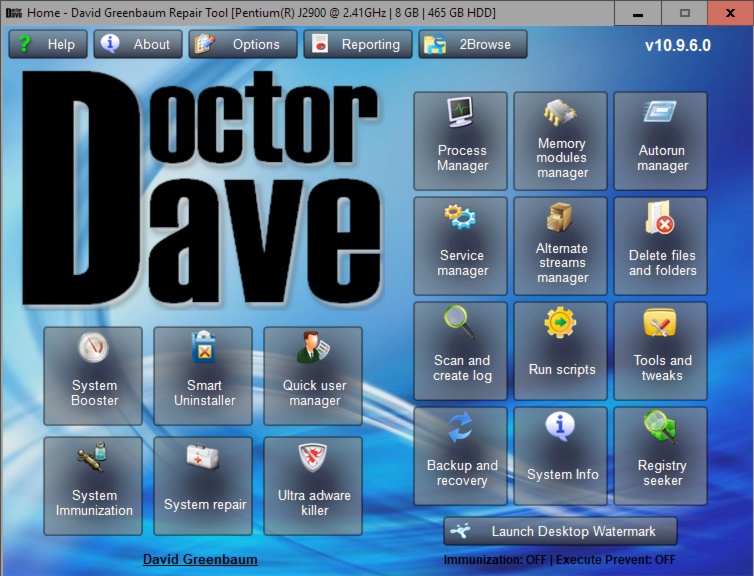 We've reported on this tool before, but it has been updated and expanded.  While it helps remove viruses, it does a ton of repairs the previously mentioned products don't even touch. The free version includes most repair functions, but you're missing the detailed branding,  reporting, and synchronization of tools in the cloud.    The fully functional Pro version is $50, and the branded version is $70.  UVK can run as a portable version or installed.  With the pro version, you can install it on an unlimited number of computers.  UVK advises against leaving it installed since a customer could pirate the key.  The program can be password protected though so you could use it on "bench" systems though installed in your shop.
Repair Functions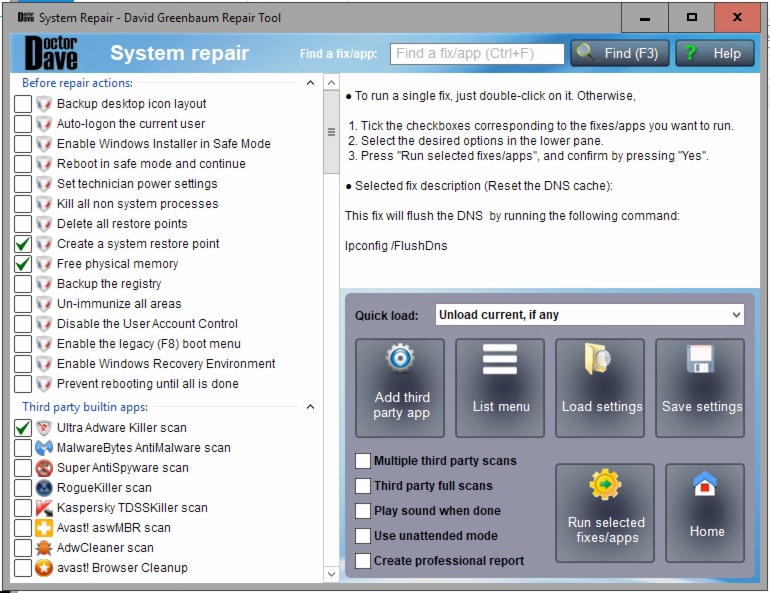 You won't find much diagnostics or reporting here, UVK is all about repair.  I don't run UVK on a system that's otherwise functioning fine.  I use it on systems that just aren't acting "right," and I can't quite put my finger on it.  From the opening screen, I can run System Repair which gives me dozens of functions to run to fix a system.  UVK gives you a recommended toolset, but you can run as many here as you want.  Similar to TechSuite, you can create your standard list of tools to run.  System Booster gives you another list or suggested repairs.    I like the fact you can schedule it to run later.  After you run a few procedures, System Booster can do a cleanup.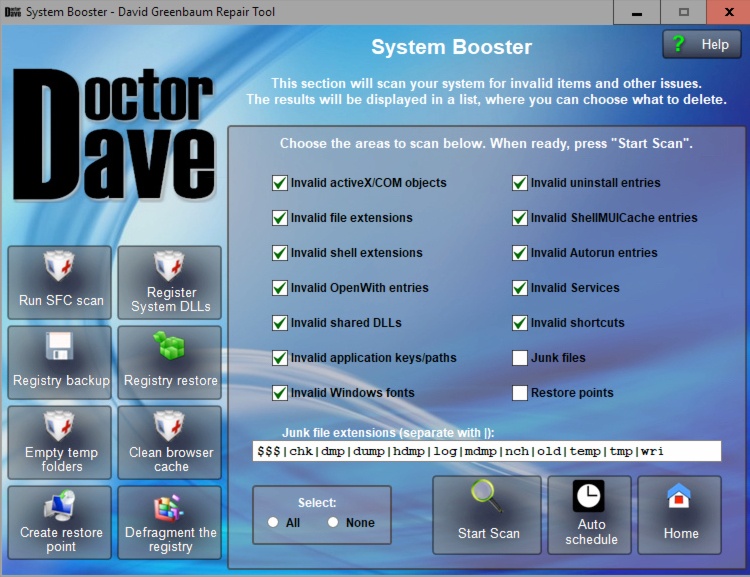 Malware Removal and Prevention Tools
If you can dream it up, UVK has it in there.  It takes the standard Windows tools like uninstaller or services and gives you a direct interface.  That's why it's great at removing viruses: you can bypass the Windows stuff and get to the heart of the problem.   I use the Quick User Manager to fix profiles that get corrupt.  If I find some pesky malware, I have every tool possible to remove it here.  UVK also lets you download third-party tools for stuff it can't fix.  If you want to lock down a system, the System Immunization prevents clients from getting reinfected.  I've used this on systems where no matter what happens, the computer keeps having problems.  I wouldn't do this in a standard service call.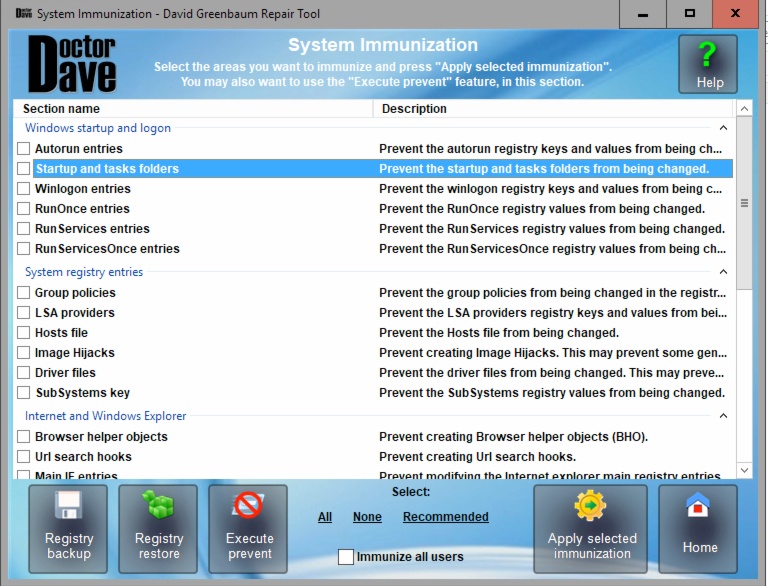 Reporting
UVK creates reports and logs that can be emailed from directly in the program.  It also lets you export to an unbranded HTML file.  That's better than MBTS but not quite as presentable as TechSuite.  The reports are in a .zip file, but can directly integrate into RepairShopr or PCRT.
Review
Ultra-Computer fixer seems like a better name.  This is the tool I use when I need to fix a system.  I'll use it to narrow in on a problem without having to find the right Microsoft tool, tweak or registry hack.  If I'm left guessing as to the issue, UVK lets you take the shotgun approach.  Throw a bunch of fixes at the problem and see what happens. The online help for this program is fantastic.  It explains everything the program does and why.
Cost:  Free/$50 Pro/$70 Branded  (all one-time costs)
Pros:  If it fixes Windows, it's probably in there and easy to use.
Cons:  It lacks customizable reporting and diagnostics
Recommendation:  Since this is a one-time expense, if you think it can fix one problem on some computer, it's worth it.  The free version lets you take it for a spin.  If the primary tools in MBTS and TechSuite can't fix it, turn here.  Both MBTS and TechSuite allow you add third-party repair tools to their system.  Add this tool!
Windows Repair All-In-One by Tweaking.com
Sometimes you aren't sure what is wrong and just need it fixed.  You don't need a deep dive into the problem or just reporting.  While UVK may have shotgun style repair functions, Windows Repair is a bazooka.  The program is free for personal use. For $24.95 you get the additional features of the Pro version including custom branding. If you're using it as a tech, you'll need to pay $64.95 a year to comply with licensing.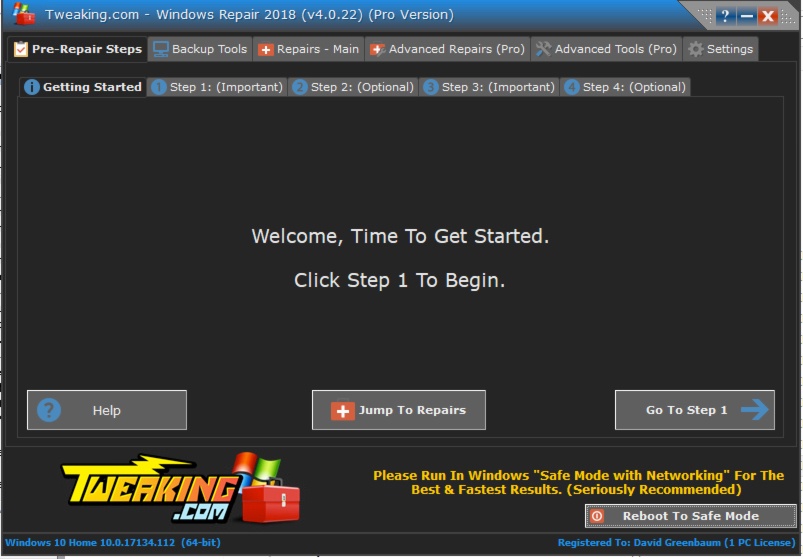 Getting Started
When you launch the program, before it does any repairs, Windows Repair lets you check the system quickly and do backups.  You can "Jump to Repairs" but running a prescan as well as registry backups prevent you from taking a problem some system and making it worse.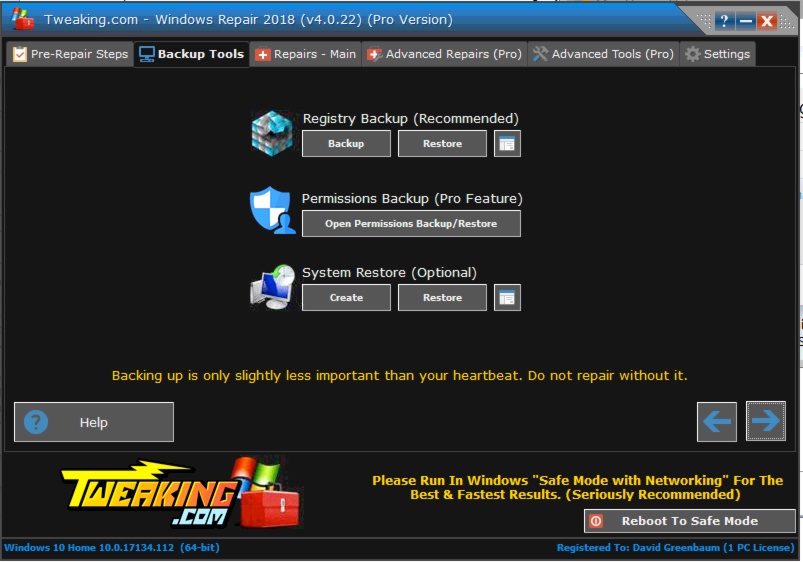 These pre-repair steps are optional. The pre-scan takes about 10 minutes.
Windows Repair includes a few more optional steps before jumping into repairs
Check File System
System File Check
Registry Backup
Permissions Backup (Pro version)
System Restore
Repairs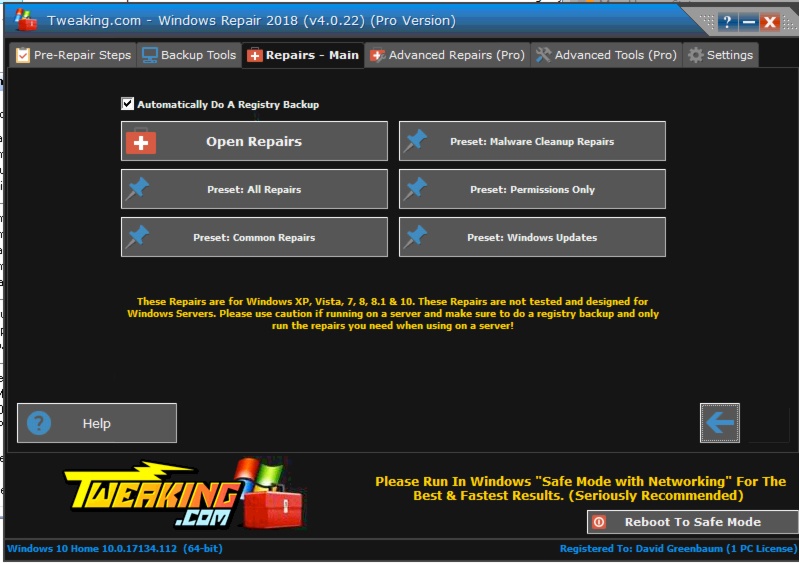 This is where Windows Repair gets its name. Not sure what's wrong and what to bring a gun to a knife fight?  Click All Repairs and you'll get 43 different procedures run.  Within that All Repairs section are a few subsets for Malware Cleanup, Common Repairs, Permissions Only and Windows Update.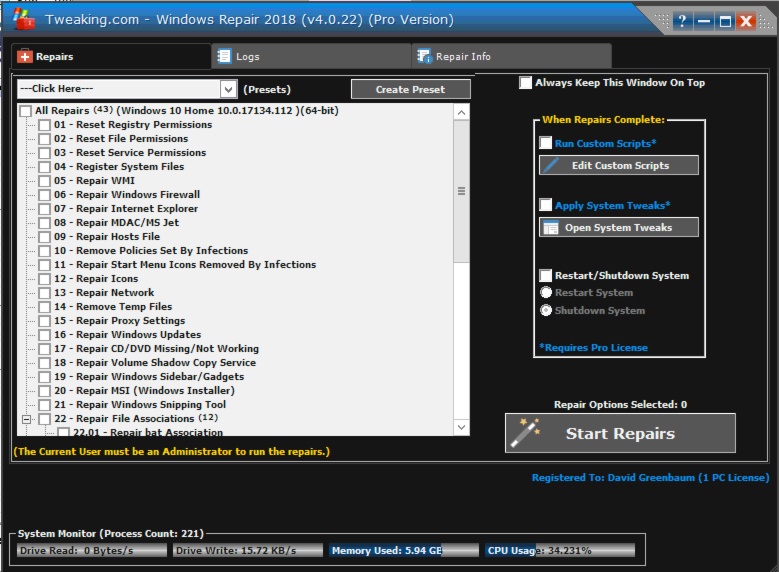 The repairs can take a long time.  Most problem system it took 30-45 minutes.  Fortunately, it logs everything.  You can specify the log location, but it doesn't let you email it or create a report that's presentable to the client.
Pro Repairs and Tools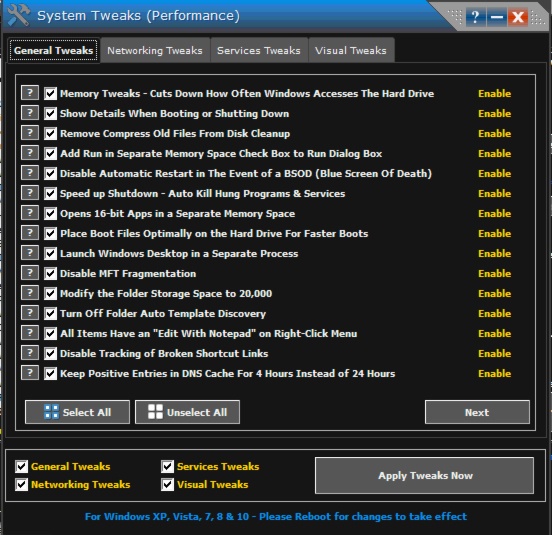 If you buy the Pro Version, you'll get the System Tweaks options which have a few dozen performance enhancements and modifications that avoid you having to run to the registry.  What's nice with these options if you click the help next to the tweak, it explains precisely what it is doing to the registry.
The pro version also unlocks a few more repairs:
Windows Firewall Cleanup
MIssing Package Files – Reg Cleanup
Unhide Hidden Files
Restore Default Printer Ports
Advanced Tools has some other tweaks that computer repair technicians commonly need:
Quick LInks to Windows Tools and options
Advanced Windows cleanup
Run as System Account
TrustedInstaller
Windows Services
Manage Windows Users
Enable F8 at boot
Review
When I can't get a system to behave, Windows Repair always seems to save the day.  I can't tell you which of the 43 fixes solved the problem, but it still seems to fix things.  This is the tool I run right before I say to a client we need to do a nuke and pave.  It also appears to fix systems so plagued with malware that I can't effectively run malware removal tools.  This isn't a tool I'd run on every system. I wouldn't run this for general maintenance.  It takes a long time, and I didn't see significant improvements after running this tool.  It also offers no reporting or diagnostics.  If a hard drive is failing, it may not warn you.
Cost:  Free/$24.95/ one-time cost/$64.95 yearly
Pros:  Fixes Windows problems without having to figure out what's wrong
Cons: Takes a long time to run
Recommendation:  Even if you opt for the tech license, that's probably less than what you charge for one service call.  If it saves one system, it's probably worth it.  I pull this out once every few months when we're frustrated about what should be a simple problem, but isn't.  Run repairs, come back an hour later and what's broken is fixed.
d7x/d7
d7 current iteration is 'x."  d7 can be overwhelming at first, but you get used to it.  If Windows Repair is bringing a gun to a knife fight, d7x is a nuclear bomb.  After months of using it, I feel I have only but scratched the surface to its power.  The original version of d7 is included in some other repair tools and was given away for free during specific promotions.  The current version is  $179 a year or $19 a month.  Both those plans are for a single technician.  If you need it for up to 12 techs, the price is $379 a year or $39 a month.  A one-time purchase option is in the works, but not at this time.  Please contact the developer for more information..
Session Interface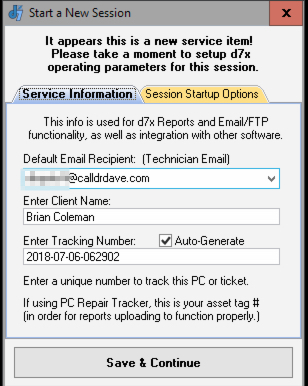 d7x treats each repair as a unique session.  If it stops in the middle of a repair because of a crash, it picks up where it left off logging everything.  This session information can match the ticket number in your CRM program.  The reports it emails can be attached directly into RepairShopr.  After you put in a session, similar to MBTS, you get a brief overview of the system and what it is doing along with potential problems.  From there you have the tabbed interface that gives you essential repair, reporting, and diagnostic functions.  The menu bar gives you direct access to crucial Windows areas as well as d7 configuration options.  For me, the interface is confusing and overwhelming.  D7 has so many options that I don't know if I could design it better.  It takes some getting used to, but after a few weeks, I felt very comfortable with it.
Option HIghlights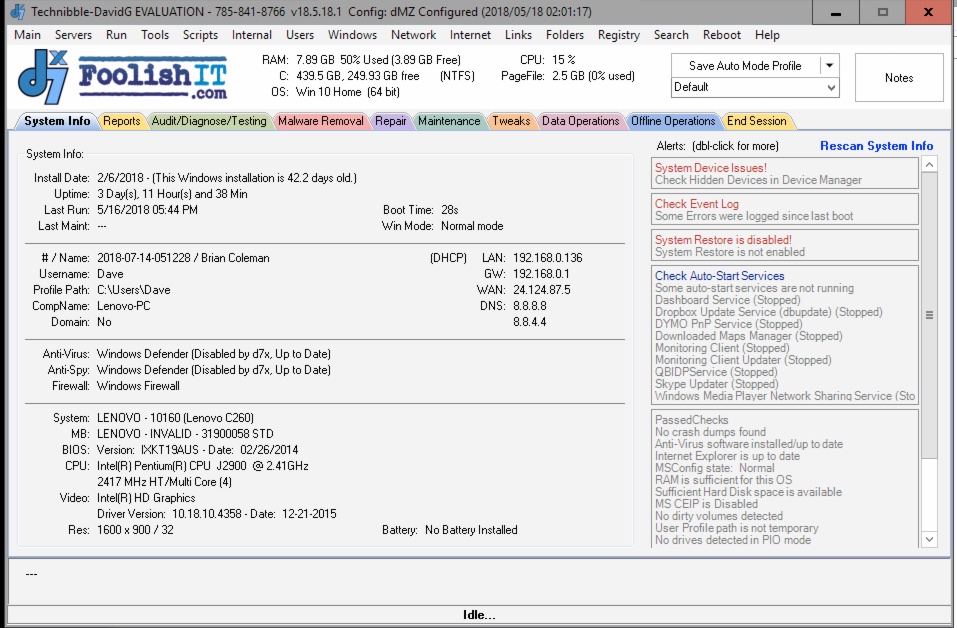 Since there's so much here, I'll just go through the critical tabs:
Reports-this is where the output of all the other tests resides.  One unique feature is you can attach screenshots to it.
Audit/Diagnose-this is like the MBTS issue scanner or the TechSuite Diagnostic report. It doesn't fix anything. It justs tests.  This area is the most comprehensive tests of all the tools.  It tests the status of helper programs like Java and Flash and even does speed tests.
Malware Removal-like the other programs, this runs a series of cleanups with included and third-party tools.
Repair-as you'd expect this is where the overall Windows repair tools reside. This area is specific to overall operating system help and matches the offerings of other tools.
Maintenance-this is the area for the standard temp file cleanups and optimizations along with patch management.
Tweaks-matches the offerings of other tools for modifying Windows settings without going into the registry.
Data Operations-here is where Fab's Autobackup integrates into d7.
End Session-the session stays open until you end it.  Then you can specify which reports are emailed out.  If you email to RepairShopr with the ticket number, it integrates into the ticket.
Customizations and Features
Once you get over the interface, this is where d7 shines.  The tabs and options are more suggested paths to use the program.  Everything here is customizable and scriptable. Techsuite does some of that but doesn't have nearly as many options as d7.  You could, for example, run a Fab's AutoBackup, then do a bunch of removals, and then tweaks and fixes.  Technicians I interviewed about d7 agreed this is the most attractive features of d7. They like being able to run dozens of tests, tweaks, and repairs just by selecting a custom profile.  It's their way of transferring and sharing skills and knowledge to the rest of the team.  One thing I immediately loved was the ability to create an optimized version that you could run remotely.  d7x lets you create a small executable you can transfer to a remote system.  Then d7 downloads what it needs while running on the host system.
Another function I spent a bit of time customizing was the built-in browser links.  d7x has a browser in the program which works even when other browsers are infected.  The program has links to some excellent resources, but we added a few more as well as our affiliate links for important purchases.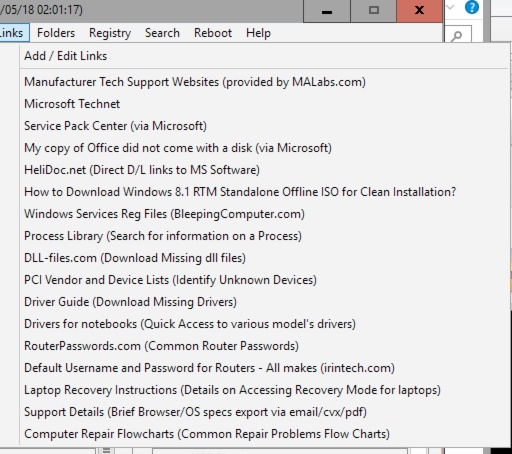 Review
d7 was one of the first tools I tried when I was a tech. Someone let me try his copy and I immediately dismissed it due to the interface.  That was a mistake.  It's a great tool.  I forced myself to learn it for this article.  After watching the YouTube videos, I got it.  To use it correctly, you have to invest a few hours and creating the profiles/script that works for your business.  Since it uses lots of third-party tools, I can access all this stuff from a central dashboard from within the program.  d7x tracks all these tools and puts them in a report we can attach to a client.  When you're running d7x, you never need to leave the program.  Every Windows function along with any tool you'd want to download is right in there.  Unless you invest the time in learning and configuring d7x, it won't be of much value to you.  d7x enables to use your skill and experience and automate it.  This approach allows you to have less-experienced techs act on your behalf.  You might have a particular automated routine for optimization of Windows 10 laptops and other for malware removal on Windows 8.
I'd suggest you watch the videos about the program and see if it appeals to you.  FoolishIT doesn't provide a trial version, but they do explain how to run and try it in a virtual environment.
Cost:    1 tech $19 month/$179 year, Up to 12 techs $39 month/$379 year
Pros:    A huge library of tools, fully customizable and scriptable
Cons:    Difficult interface, needs time to configure
Recommendation:  Try it!  After watching the videos and trying the test function, see if it's right for you. If you don't have the time to test it, then you won't have the time to use it.  You have to be patient with this program.  It won't work the way you want out of the box.  If you like building PCs rather than buying one off the shelf, this is the program for you.
Special Mentions
Windows Repair Toolbox (WRT) (Free)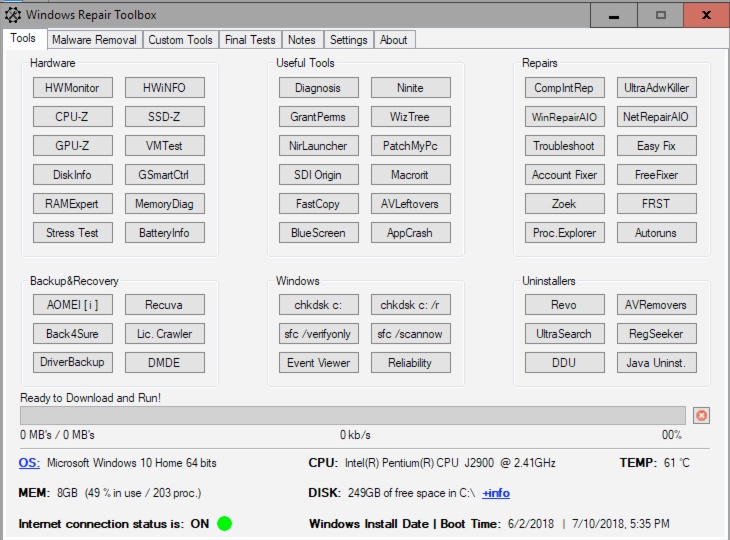 This is a free program, although it does provide support.  It also doesn't run portable, it must be installed and requires.Net Framework 4.  Even though it's free, the settings include custom branding. It even includes the ability to email reports. We've covered it before.
Similar to the other programs, this acts as a dashboard to other tools to download. I didn't test it extensively nor did I use it because it requires you to install it along with .Net.  Most technicians don't like leaving tools on a client computer, especially powerful ones like WRT.  The system has to be working well enough to install a program reliably for WRT to work.
Tech Tool Store ($30/year $80/lifetime)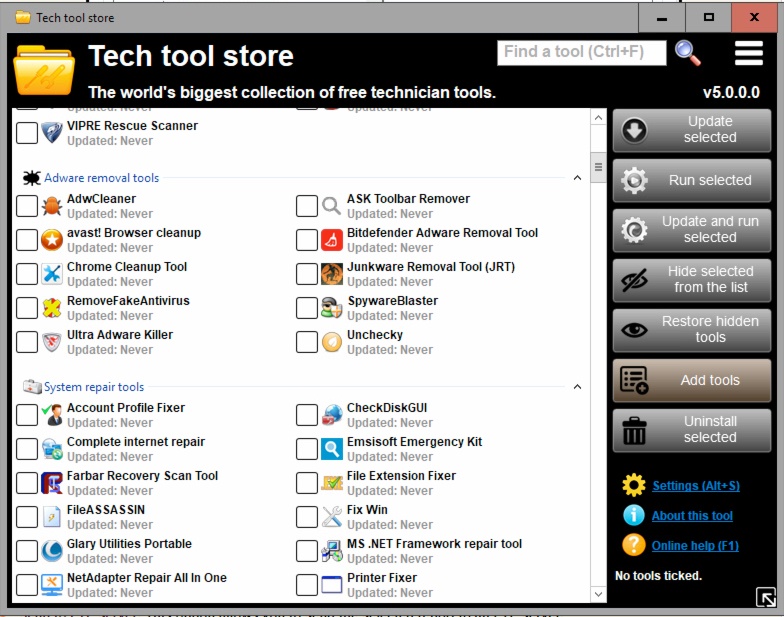 This portable program is written by Carifed, the same company as UVK. It's a massive directory of third-party tools and a dashboard to Windows tools.  You can download and run them from within the program.  When done, Tech Tool Store can send reports to RepairShopr with a ticket number or just email the report.  Tech Tool Store isn't a full repair tool since you decide what programs to run and in which order.  That's how it differs from UVK.  UVK has one-click repairs and scripts.  With Tech Tool Store, you decide what to run and which order.  In that way it's like d7, it requires more intervention on your part . Tech tool store is the perfect companion to any of these programs mentioned earlier.  If a function isn't in those programs, Tech tool store lets you download and run it.   It's fun just to explore and run the program to see what they do.  If you've ever said "I wonder if there's a program that could help with this," then you'll find it in Tech tool store. If you're exploring repair tools, add this one to your portable USB stick.
Final Thoughts and Recommendations
Deciding which tool or tools to use are an investment of time and money.  They'll all pay off though in faster repairs with better reporting and knowledge transfer for your team.
Join Techbench and Get MBTS
If you use Malwarebytes, you should join Techbench and MBTS. It keeps you legal running the program, and the included licenses pay for your usage.  The key is you have to sell those initial copies of the program.  If Malwarebytes isn't your preferred program to resell, you might want to skip this program and the benefits.  That's they sneaky hook:  give you an excellent tool for free in exchange for selling Malwarebytes.  The keys work on both Macs and PCs.  If you're also doing Macs (which I recommend), you could still settle on a different anti-malware for PCs and resell the Mac licenses.
When You Get Busy, Get Techsuite
Techsuite is an outstanding diagnostic and basic repair program. If you're using a ticketing and tracking system, I'd recommend the product.  If you're a RepairShopr customer, having all those reports within the ticket is worth it.  I run Techsuite on every system and love the rich history I get on every client.  The client receives a customized report about their system that has your branding on it.  I've had more than one client say "Wow, you have your own repair tools?"  Yeah, we're special like that!  If all you're into is fixing without documentation though, you won't get much value from Techsuite.  Also, given the monthly price, you'd have to do enough repairs each month to make it worth your cost.  Starting techs probably won't need this program.  This is the program you'd buy when you get busier and have a tracking system in place.
Buy UVK and Tech Tool Store
UVK and Tech Tool Store are must-haves.  Given they have low yearly costs, you just need one repair a year to establish the program's value.  This is the tool you pull out where you aren't sure what's wrong or how to fix it.  Between UVK and Tech tool, there's probably something in there to help you.  I wouldn't run these on every system, just systems you're having problems with.  Unlike MBTS or Techsuite, they aren't there to establish baselines or run audits.  It's to fix problems.
Keep Windows Repair Around
Similarly, Windows Repair is another tool to buy and keep around for special occasions.  Windows Repair is the last tool I run before throwing up my hands and saying "we're gonna have to backup and reformat." I don't always know what Windows Repair fixed, but I run the program, come back a few hours later, and it's mostly all working.  A few times it completely prevented a computer from starting up, but since I was going to "nuke and pave" anyways, I'm no worse for the wear.
If You Have the Time to Invest, Use
If you're willing to invest the time, d7x is a fantastic tool.  I wouldn't subscribe to this and Techsuite.  There's enough of an overlap that the extra price for both isn't justified. Everything in Techsuite is in d7x.  Techsuite's only advantage I see over d7 is that it's easier to use and integrates better with RepairShopr.
Having the right tools enables you to do a better job and fit more jobs into a day.  Sure, they're an investment of time and money, but they'll pay off.  I know my business has improved dramatically after having this suite of programs on my portable USB drive.
Written by Dave Greenbaum